1-day tour Jinja you will Get some time to explore the adventure capital of Uganda i.e. City tour Jinja. This small town will have your adrenaline racing with the thrilling hard adventures it offers. Jinja or Jinja city lies in the southeast of Uganda about 84 km from Kampala city. Located on the shores of Lake Victoria near the source of the river Nile. The city is the chief town of Jinja District, considered the capital of the Kingdom of Busoga.
Nearby towns and villages include Njeru, Buwenda, Kimaka, Mpumudde, Masese, Walukuba and Bugungu. Before 1906, Jinja was a fishing village that benefited from being located along distance trade routes. The origin of the name "Jinja" which means rock comes from the language of the two tribes the Buganda and Basoga that lived on either side of the Nile River in the area.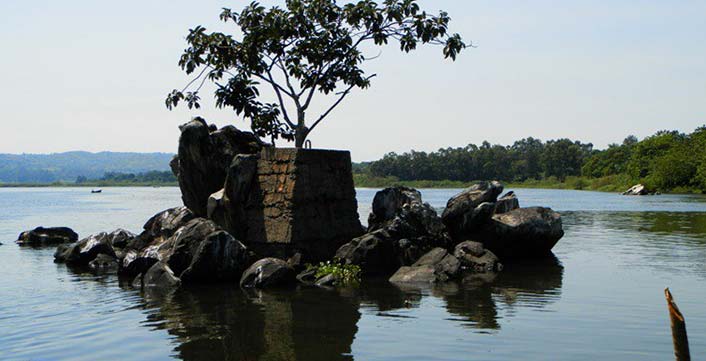 You Must Know when Booking a 1-day City tour Jinja with Bujagali & Rafting.
✓ Group size: minimum of one traveler
✓ Transport 4X4 Safari vehicle – Van or Minibus
✓ Accommodation: Safari Lodge types (Budget, Mid-range or Luxury)
Note: For Booking and Confirmation, a 50 % initial deposit is required to secure the Entrance Fees slot
Price per person for numbers of people. (For 2 people, each pays $145)
| | | | | | |
| --- | --- | --- | --- | --- | --- |
| Number of people | 2 | 3 | 4 | 5 | 6 |
| Price per person | $195 | $165 | $150 | $140 | $136 |
Highlights for 1-day City tour Jinja with Bujagali Falls and Rafting
Visiting the source of the white Nile
Spectacular bungee jumping sites.
Sezibwa Falls hiking
Bird watching in Mabira forest and Nature Walk
Delicious meals
Airport transfers
1-day Rafting package
This adrenaline rush is the adventure. You can decide to have a half-day or full-day rafting package. Full-day rafting allows one to raft all the 8 rapids with lunch and barbecue at the end, you get more out of this option as you explore all the rapids and sail through to survive the nail with a celebration of beer and barbecue.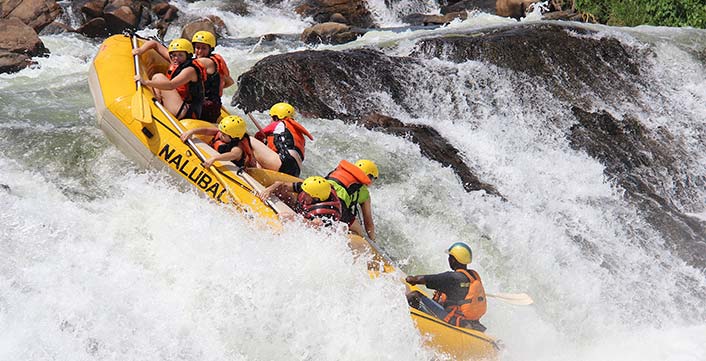 Nothing gets better than jumping over the world's longest river, River Nile in a thrill of adrenaline rush as you soar through the skies with an endless fall that gives you the most scenic views stretching across the river Nile. This will be quite the adventure of your life.
ONE-DAY CITY TOUR OF JINJA
Option I for 1 day-City Tour Jinja
This will be a day well spent touring different places in the adventure capital of Uganda. You are encouraged to be up quite early and ready to begin your journey after your breakfast. Your adventure will begin in Sezibwa falls, an interesting spot with a lot of rich history attached to it.
Continue to Uganda's largest natural rain forest for a guided nature walk that will usher you to Owen falls dam. After your lunch, you will visit the source of the Nile and later explore the waters of the Nile on a thrilling boat cruise. Your day will end in an evening of relaxation at Bujagali falls.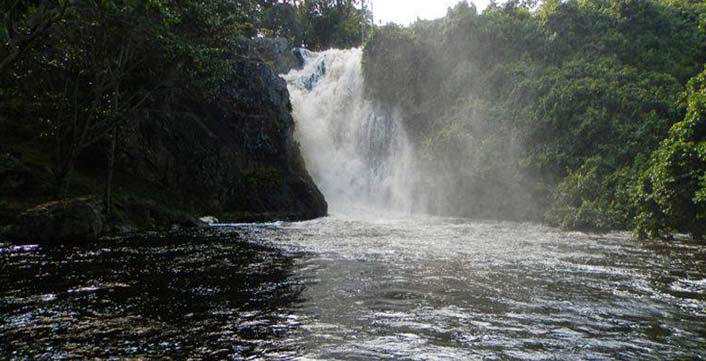 Option II for 1-day City Tour Jinja
Option two of the Jinja tour will be a full day of hard adventure Rafting! You will be picked up quite early to begin your journey to Jinja. You will have breakfast at the starting point of rafting, you will be briefed and then the adventure will begin! Around the 4th or 5th rapid, you will have a lunch stop and relax for a few minutes before getting back into paddling more rapids. Your journey will be rewarded with a great feast at the end, a bottle of beer, and barbecue.
1-day City tour of Jinja with Bujagali Falls and Rafting includes
Pickups and drop off at your destination.
Bottled drinking water.
Entrances fees to various sites.
Rafting on the Nile.
A boat ride to the source of the Nile.
Buffet lunch at Jinja Nile resort.
Driver allowance.
1-day City tour of Jinja with Bujagali Falls and Rafting exclude
Airfare.
Uganda Visa.
Luxury drinks.
Gratitude to local guides.
Telephone and porter fee.
Personal shopping bills and any other item not mentioned.