A total of 900 critically endangered mountain gorillas (Gorilla beringei beringei) can be found in Mgahinga Gorilla and Bwindi Impenetrable Forest National Parks in Uganda. These apes live in families or groups and prefer hilly, dense forest areas, while some choose to climb up into the mountains to live with their families.
Since gorillas are thought to have 98% human genes and are susceptible to airborne illnesses like the flu and the common cold, as well as the fact that they are thought to move to new locations every two nights, rangers must always keep track of their whereabouts in order to make it easier for tourists to locate mountain gorillas with a valid gorilla tracking permit.
How and what mountain gorilla feed on
Gorillas consume food all day long, but the majority of the food that mountain gorillas consume is stems, bamboo shoots, fruits, leaves, roots, larvae, ants, and a variety of other things.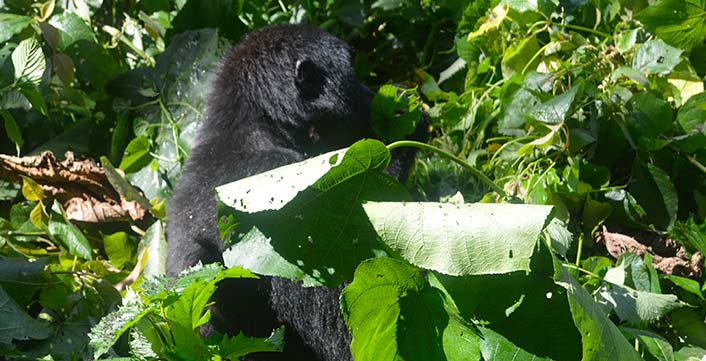 Gestation period of mountain gorillas
They don't have a set time for mating; instead, the new male member mates with the female family member. The gestation period is approximately 8.5 months.
Gorilla habituation experience in Bwindi Impenetrable Forest National Park
The process of training gorillas to grow accustomed to people, adapt their way of life, and be in their company is known as "gorilla habituation." This experience is unique to Uganda (Bwindi Impenetrable National Park), where there are 11 habituated gorilla families and visitors spend four hours rather than one hour with the apes while trekking.
Difference between gorilla tracking and trekking experience in Uganda
Gorilla Tracking In order to track gorillas, one must try or attempt to find a particular habituated mountain gorilla family. Gorilla trekking is referred to as a journey to view gorillas in their natural environment in African tropical woods.