Pian upe is a reserve that is roughly 2,275 square kilometers in size and is situated in the Karamoja region of northeastern Uganda. After Murchison Falls National Park, pian upe is now Uganda's second-largest wildlife conservation area. The reserve is situated between Kidepo Valley National Park on the west and Mountain Elgon National Park on the east. Additionally, pian upe is surrounded on two sides by the game reserves of Matheniko and Bokora.
Pian upe remarkable landscape
Massive grasslands, rocky hills, mountains, and caves make up the majority of the pian upe wildlife reserve. The reserve's magnificent landscape makes it ideal for photography and exploring. Additionally, there are unspoiled kopjes, a portion of riverine woodland, and grasslands in this reserve; red acacia, desert dates, bush willows, red spine thorns, woolly caper bush shrubs, and butterfly pleat shrubs are some of the common tree species in the reserve.
The community at this game reserve.
Pian upe, after which it is named, houses two pastoralist tribes: pian is a subgroup of the Karamoja, while upe is a group of Kalenjin-speaking people known as Pakot in Kenya.
Wildlife at pian upe game reserve
The pian upe game reserve is one of the most well-known for housing various unique creatures found nowhere else in Uganda. It has roughly 44 species of mammals, some of which are only found in the Karamoja subregion. The ecology has drawn unusual bird species, making the reserve a popular spot for birdwatching. The common ostrich, fox's weavers, and karamoja apalis are just a few examples.
Major activities in pian upe
The best place for travelers to go is pian upe wildlife reserve, which offers a pleasant safari with few other people around for the fun. In the pian upe wildlife reserve, popular tourist activities include guided game drives, bird viewing, walking safaris, mountain climbing, cultural excursions, and many others.
Assisted or guided game drive
A guided game drive can be done very early in the morning or in the evening. This is because the afternoon is always so hot and many animals will be hiding in the shade, reducing the chances of better active game viewing. An early morning drive will also give you the best sunrise experience in the wild, while a late evening drive provides you with a beautiful sunset.
Following different game tracks in the reserve offers great views of animals like herds of elands, kobs, hartebeests, waterbucks' buffaloes, and a dazzle of giraffes. On a lucky day, you will be able to sight the following: greater kudus roan antelopes, elands, reedbucks, dik dik, and many other rare species of mammals. The game drive also highlights the chances of viewing predators like lions, leopards, hyenas, both common and side-striped jackals, and cheetahs.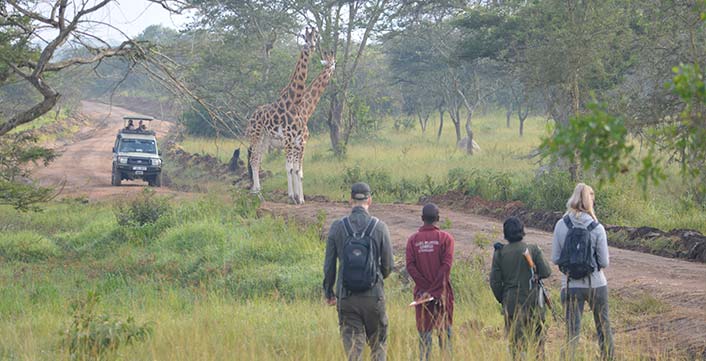 The game drive will also allow you to see some primates like olive baboons, patus, and velvet monkeys. While on the same drive, expect to see a lot of different species of birds in different colors and sizes.
Note: Game drives in the pian-upe wildlife reserve can be challenging due to the unapproachability of some tracks. However, with a good 4×4 vehicle, the tracks can be drivable.
Bird watching in pian upe game reserve.
It is home to over 242 species of birds, making it one of the best birding destinations in Uganda. Bird watching is usually done during game drives and nature walks. This is to provide you with chances to sight rare bird species like the secretary bird, ostrich, Karamoja apalis, fox's weaver, superb starlings, and jackson's hornbills, among others. The river girik in the southern part of the reserve provides a perfect habitat for waterfowl like herons, ducks, geese, and many others.
Nature walks or hiking in pian-upe
During the walk, an armed ranger and an experienced park guide knowledgeable about all the hiking trails and nature will join you to explore the reserve on foot, enabling you to get up close to different animals like zebras and giraffes, waterbucks, elands' baboons, and monkeys. variety of bird species, tree species, and beautiful scenery.
The walk gives you a chance to reach areas that vehicles cannot reach. Since the reserve is surrounded by hills and mountains that offer hiking experiences, including Mount Napak at 2538 meters and Mount Kadam at 3063 meters, the hiking safaris will also offer sightseeing of Napedet Cave, which is popularly known as an ancient recreational place for the first inhabitants of this area, who would gather to engage in painting before the area was gazetted as a national reserve.
Tourists will be able to take a closer look at ancient paintings of different animals like roan antelopes, hartebeests, baboons, and giraffes. However, hiking to Napedet will test one's physical fitness levels, work on health levels, and give way to an awesome view of the reserve ranges.