Ngamba island chimpanzee sanctuary was established in 1998 by Uganda Wildlife Authority to take care of the orphaned chimpanzees that were killed by poachers. Ngamba is an Island located in the Mukono district surrounded by Lake Victoria Uganda's largest freshwater lake and the second largest in the world 23 km southeast of Entebbe mainland. The Island has 100 acres of land but 95 acres are occupied by tropical rainforest, which makes it a safe home for the most climbing mammals the chimpanzees.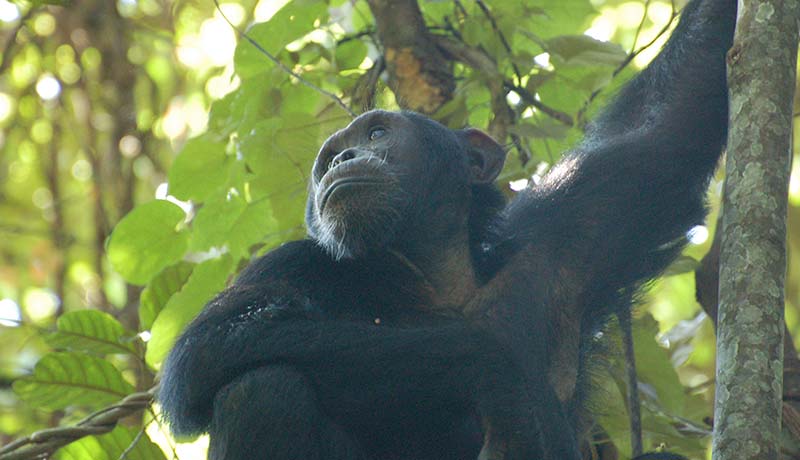 Facts about the Sanctuary
The sanctuary takes care of 49 orphan Chimpanzees rescued from different parts of Uganda due to poaching, trade, and pet opportunities, and 3 were born there. All these chimps are given food; medical care, and security, and the ladies are given contraceptives so that they do not get pregnant. Most importantly these great apes are fed on fruits like apples, mangoes, pawpaw, oranges, bananas, pineapples, watermelons, avocado, and many others. They eat foods like cassava, eggs, porridge, and sweet potatoes. They also eat leaves, flowers, and seeds. They are fed 4 times a day. Their life span is 60 years.
Other wildlife at Ngamba Island Sanctuary
Besides the Chimpanzee, there is other wildlife like fruit bats, butterflies, lizards, and spiders. There are also 120 bird species recorded on the island. Apart from the chimpanzee experience, there are other activities on the island like evening cruises, games like volleyball, swings, campfires, and aerobics.
Access to the Sanctuary
The island can be accessed by water and air. In case someone is using a water transport boat depart from the waterfront pier or UWEC and by air, one can depart from Entebbe airport or Kajjansi airstrip. A motorized canoe takes 1 ½ – 2 hours.